The way to a more eco-responsible fashion is long and tedious. On our route this year... made in France ! This winter, 15% of Nénés pieces are made in France. And yes, after our iconic Mimosa pyjamas, now it's time for lingerie with a capsule that we are very proud of!
Made in a historic workshop in Epernay, this capsule is timeless and elegant at the same time, adapts to all ages and body types and is sold at the fairest possible price.
The choice of Made in France
The choice of Made in France was obvious to us.
The idea behind this capsule?
Supporting made in France and relocating valuable historical know-how, which is dear to us
Limit our carbon footprint by producing as locally as possible
Offer you the best possible quality , at the fairest price
And to enable all of this, we are proud to produce this capsule in the historic Chantelle factory in Epernay. Founded in 1962 by the Kretz family to manufacture the first Chantelle bras, this factory is an expert in lingerie and corsetry. Long remaining a development factory only, since 2019 it has taken up the challenge of maintaining this know-how in France and helping brands launch into French manufacturing.
Today, no less than 90 people work in the factory to make Made in France pieces of impeccable quality. Operators have worked in the factory for an average of 30 years and new recruits are trained internally.
Made up of 25 parts , a bra passes through the hands of 10 operators on average for a total of 20 steps to complete before being ready! A long, meticulous and expert manufacturing process which allows us to offer the best possible quality.
Pieces Made in France, top quality
Composed of 5 models in total: 2 bras and 3 panties, this capsule was made entirely from black floral Italian lace. Perfect for all ages and all body types , this Made in France capsule has been designed to accompany you without ever getting tired.
Each piece has been carefully developed. So the time for presentations has come!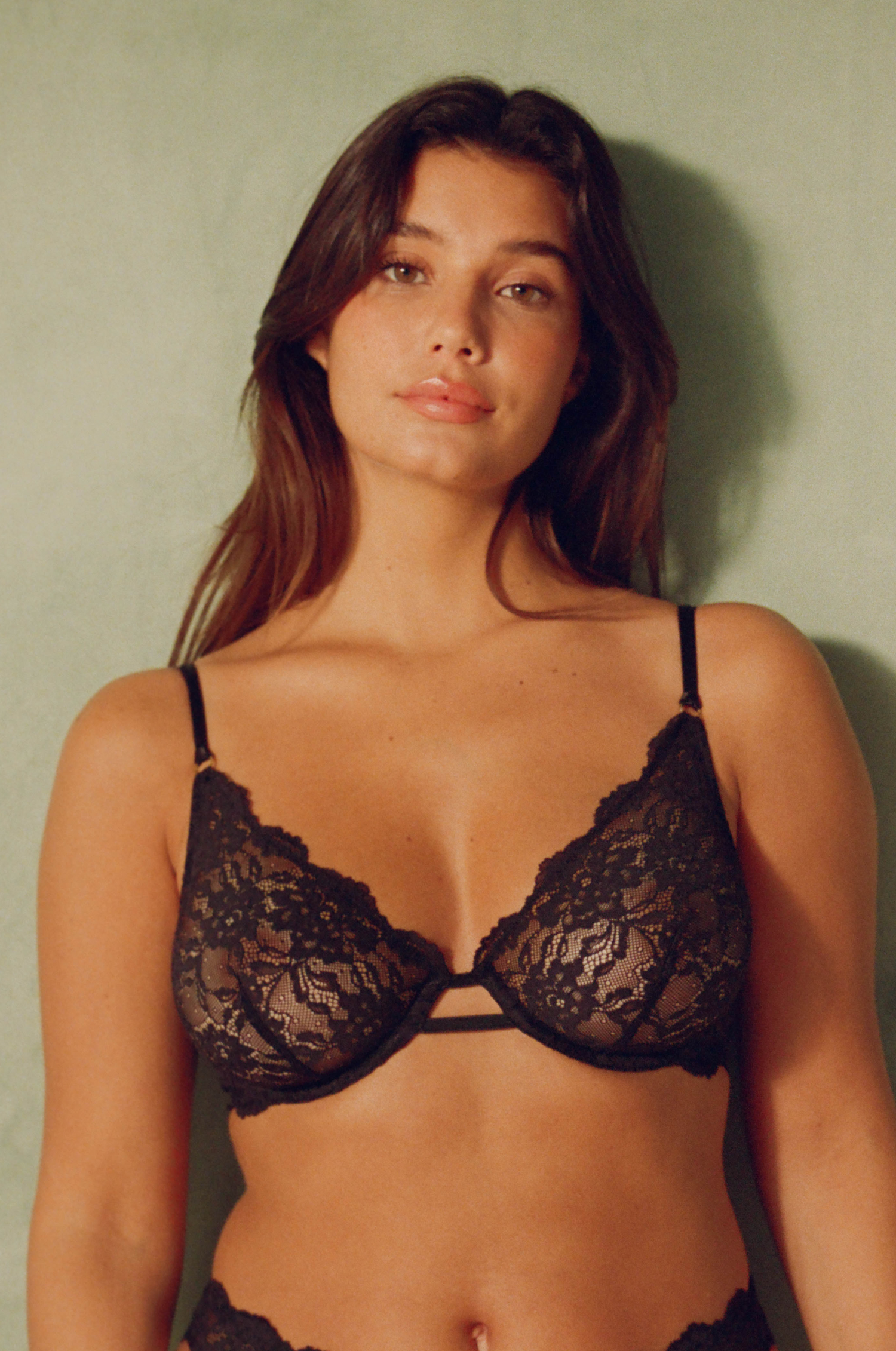 The Imai underwired bra
First piece of this capsule: the underwired bra that you love at Nénés.
As always, it does not have shells for a natural effect but its underwires guarantee good support.
The detail we love about this piece? Its two pretty elastics at the front of the bra to add femininity and originality.
Thanks to its wide variety of sizes, its adjustable straps and its adjustable back, it adapts perfectly to many body shapes.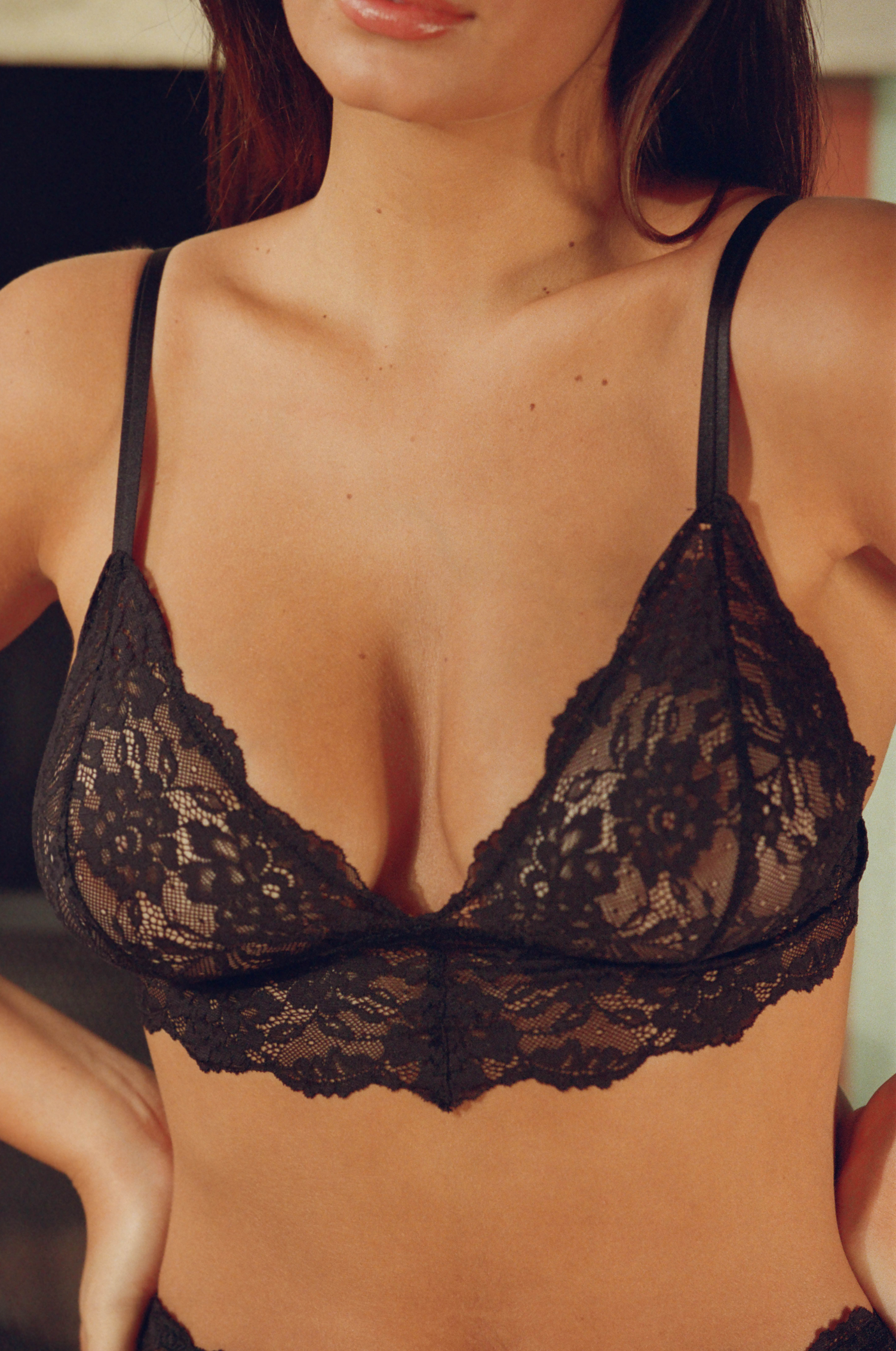 The Imai triangle
Second and final bra in this capsule: the triangle !
Unsurprisingly, it takes the best-selling form that you love so much from Nénés. Particularly suitable for small breasts, the Imai triangle without shell or underwire is also suitable for larger breasts which do not need a lot of support.
This triangle has a pretty pointed lace basque at the front and also double straps forming triangles at the back.
3 bottoms to match your desires
In order to create the perfect sets for you, we have decided to offer you three shapes of panties. They are worn high waisted or low waisted and never have elastic at the edges so as not to cut into the buttocks. The hardest part will be choosing between:
Panties , our most covering model with a pretty, ultra-feminine V cutout at the back.
The tanga , more indented, also has a pretty V cutout at the back.
And to finish, the thong which is even more indented and this time without a cutout at the back.
The panties

The tanga

The string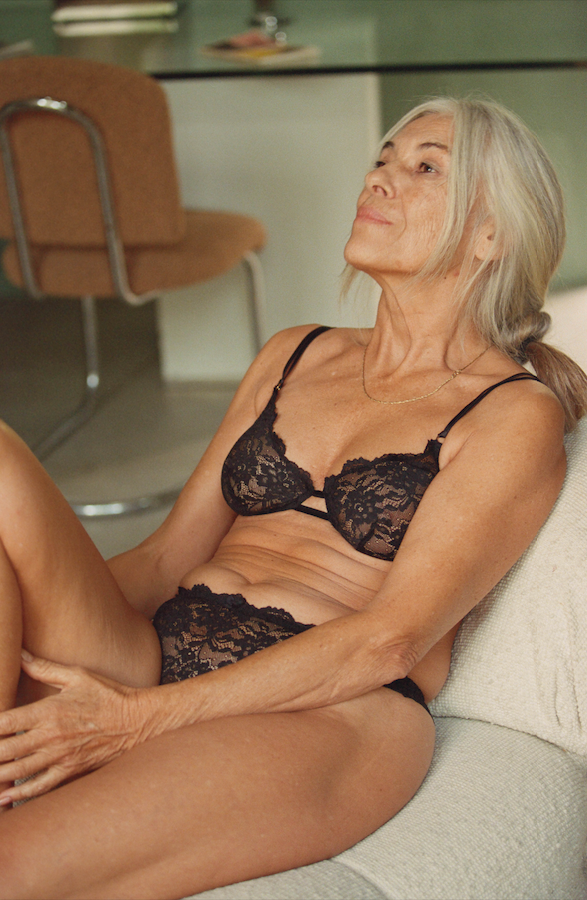 More precise sizes
Another new feature thanks to this capsule: more precise and varied sizes as you have asked us so much!
The Imai underwired bra is available in 14 sizes , from 85A to 90E to 80C. Thanks to this range of sizes, straps and an adjustable back, this bra adapts to a wide variety of body shapes and will provide you with the comfort and support you need.
The Imai triangle bra , for its part, is available from XS to XL , from cup A to E.
As for the panties, they are available from XS to XXL , i.e. from 34 to 44!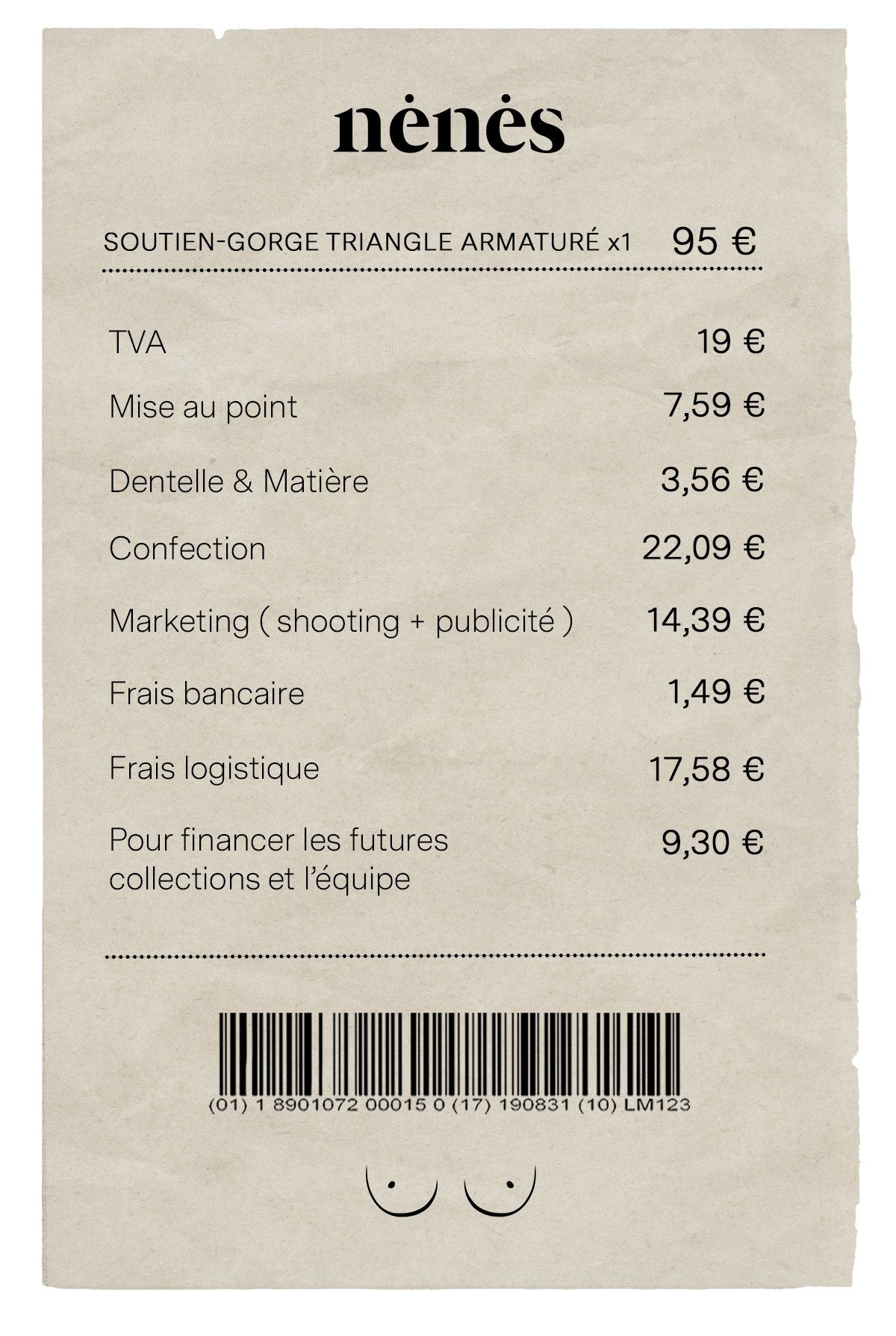 Fair prices
Unsurprisingly, made in France has a considerable cost, which indeed has an impact on the final price of this capsule. The challenge through this capsule: offer you the fairest price possible , and explain it to you.
Here is a detailed breakdown of the price of the Imai underwired bra .
The entire Nénés team is very proud of this capsule composed of basic and timeless sets, perfect for all ages and all body types and ideal for treating yourself.
A collection that comes at just the right time for an eco-responsible Christmas !