(1)
Peux-tu te présenter ?
Bonjour, moi c'est Miren, créatrice de contenu et voyageuse espagnole née dans les années 90 !
Can you introduce yourself?

Hello, I'm Miren, a 90's Spanish girl, content creator and traveler.
(2)
Comment a commencé ta vie de créatrice de contenus ? 
Au départ, il s'agissait d'un hobby car la photographie et les voyages m'ont toujours passionnée. Mon grand-père était photographe dans le nord de l'Espagne, mon père a toujours aimé la photographie lui aussi, et mes deux parents m'ont également transmis leur amour pour le voyage. J'ai commencé à poster mes photos lifestyle et de voyage sur Instagram, où une communauté de personnes suivant mes aventures a commencé à se développer jusqu'à ce que, finalement, mon passe-temps se transforme en travail !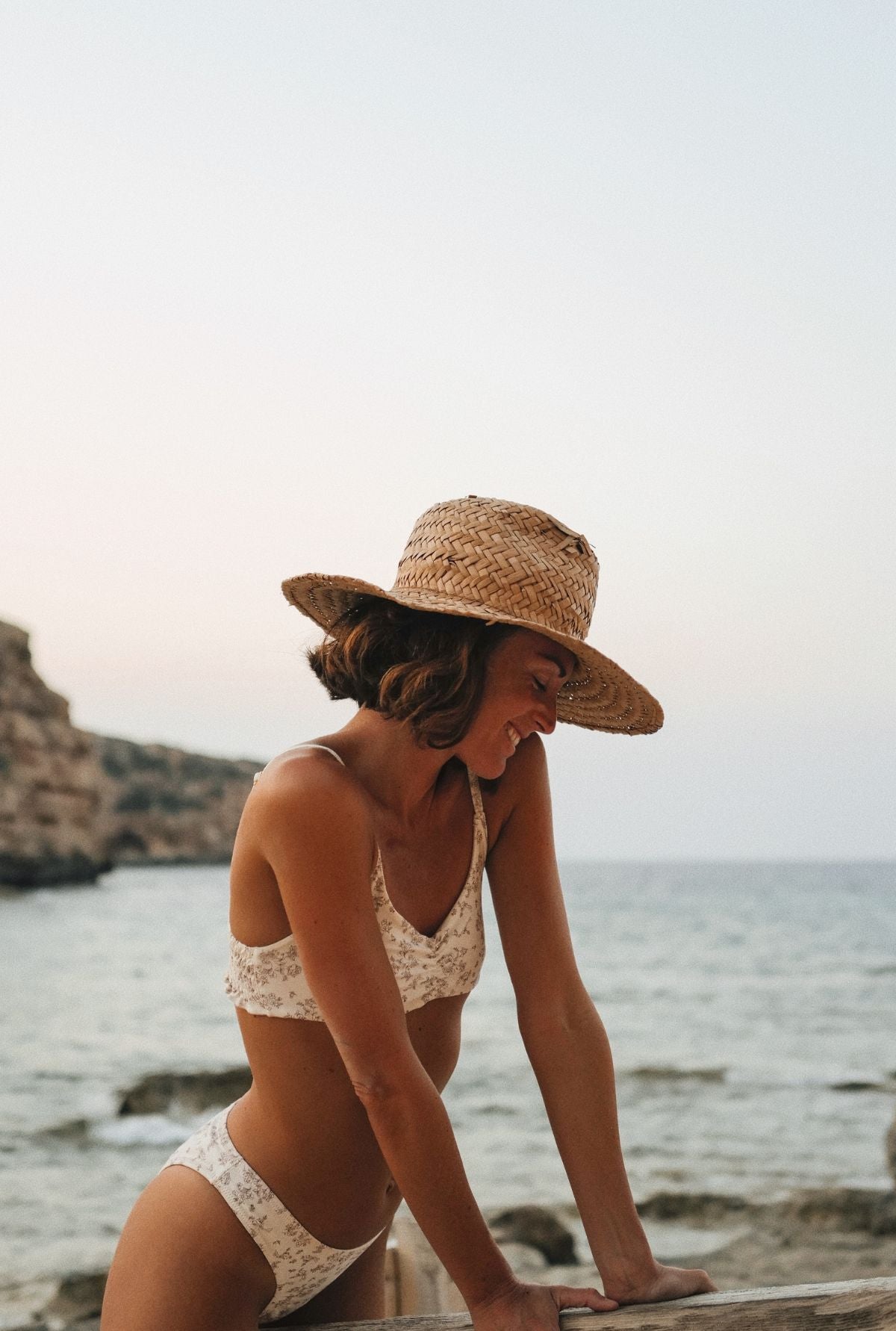 How did your life as a content creator begin? 

It started out as a hobby, because I've always loved photography and travelling. My grandfather was a photographer in the north of Spain, my father has always loved photography too, and I also inherited my love for travel from both my parents. I started posting my lifestyle and travel photos on Instagram, where a community of people following my adventures began to grow until, eventually, my hobby turned into a job!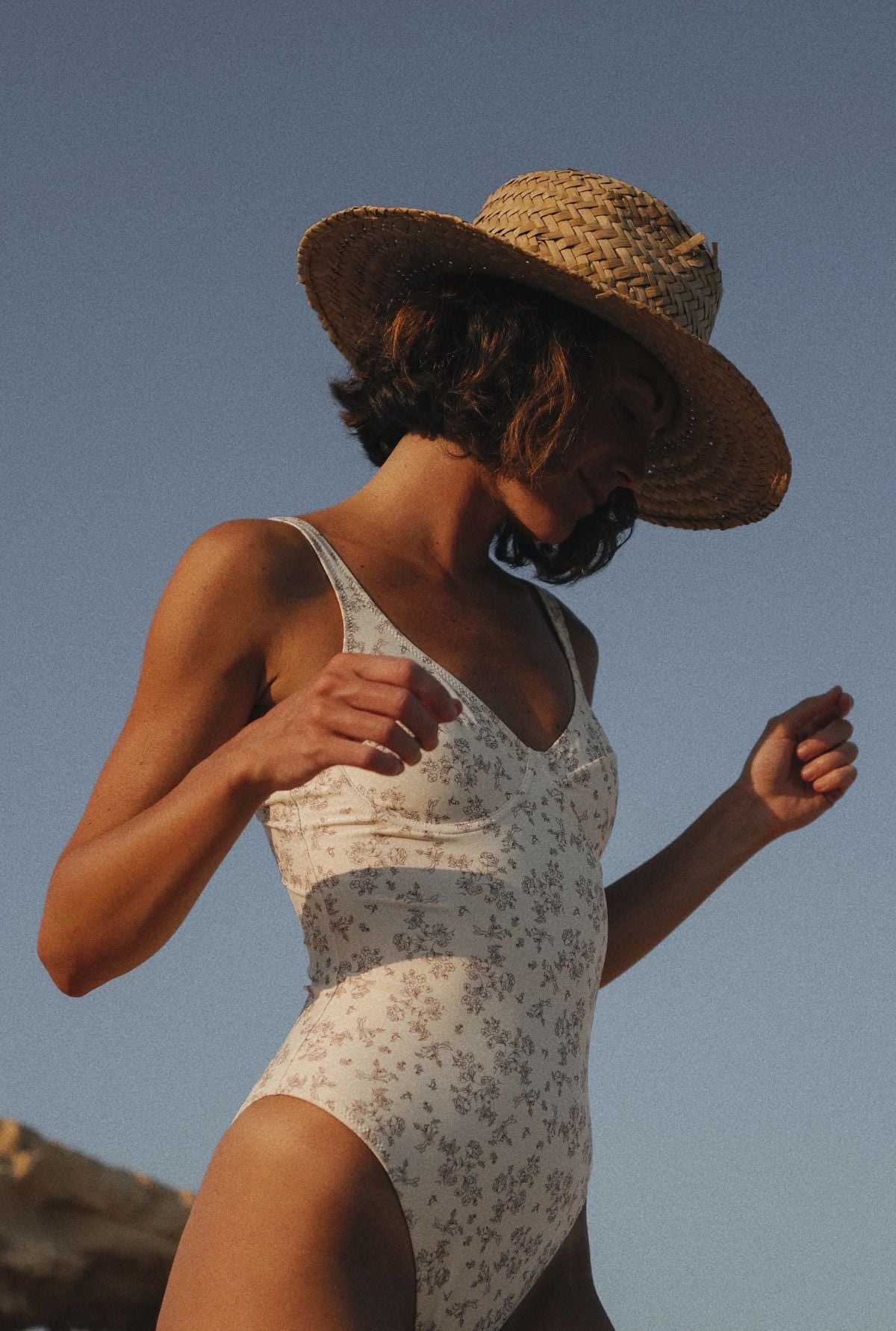 (3)
Comment définirais-tu ton style ? 
Simple, confortable et décontracté. Et bien sûr, méditerranéen !
How would you describe your style?
Simple, comfortable and relaxed. And of course, Mediterranean!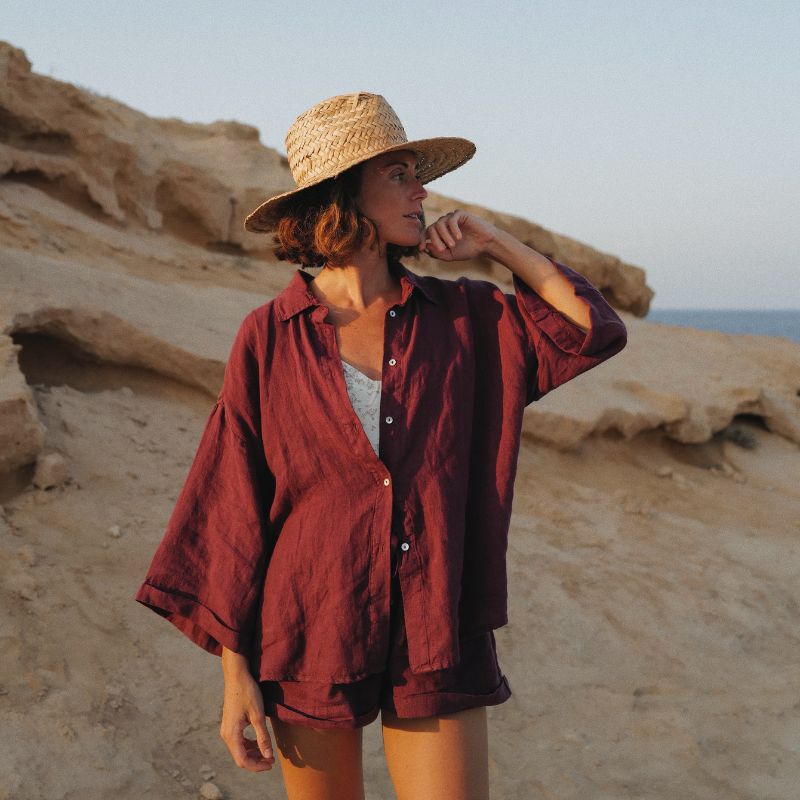 (4)
Pourquoi une collab avec Nénés ? 
J'entretiens un lien fort avec les marques françaises, je me sens très proche du célèbre "je ne sais quoi". J'ai aimé l'idée de travailler avec Nenés dès que j'ai reçu leur proposition : c'est une marque engagée pour l'environnement, qui met en valeur le corps naturel de la femme, qui prône de belles valeurs et qui, en plus, propose de très belles pièces. Et derrière laquelle se cache une merveilleuse équipe féminine !
Why did you choose to collaborate with Nénés?
I have a strong connection with French brands, I feel very aligned with that "je ne sais quoi". I loved the idea of working with Nenés as soon as I received their proposal: it's a brand that's committed to the environment, that celebrates women's natural bodies, that promotes great values and that designs beautiful pieces. And which is run by a wonderful team of women!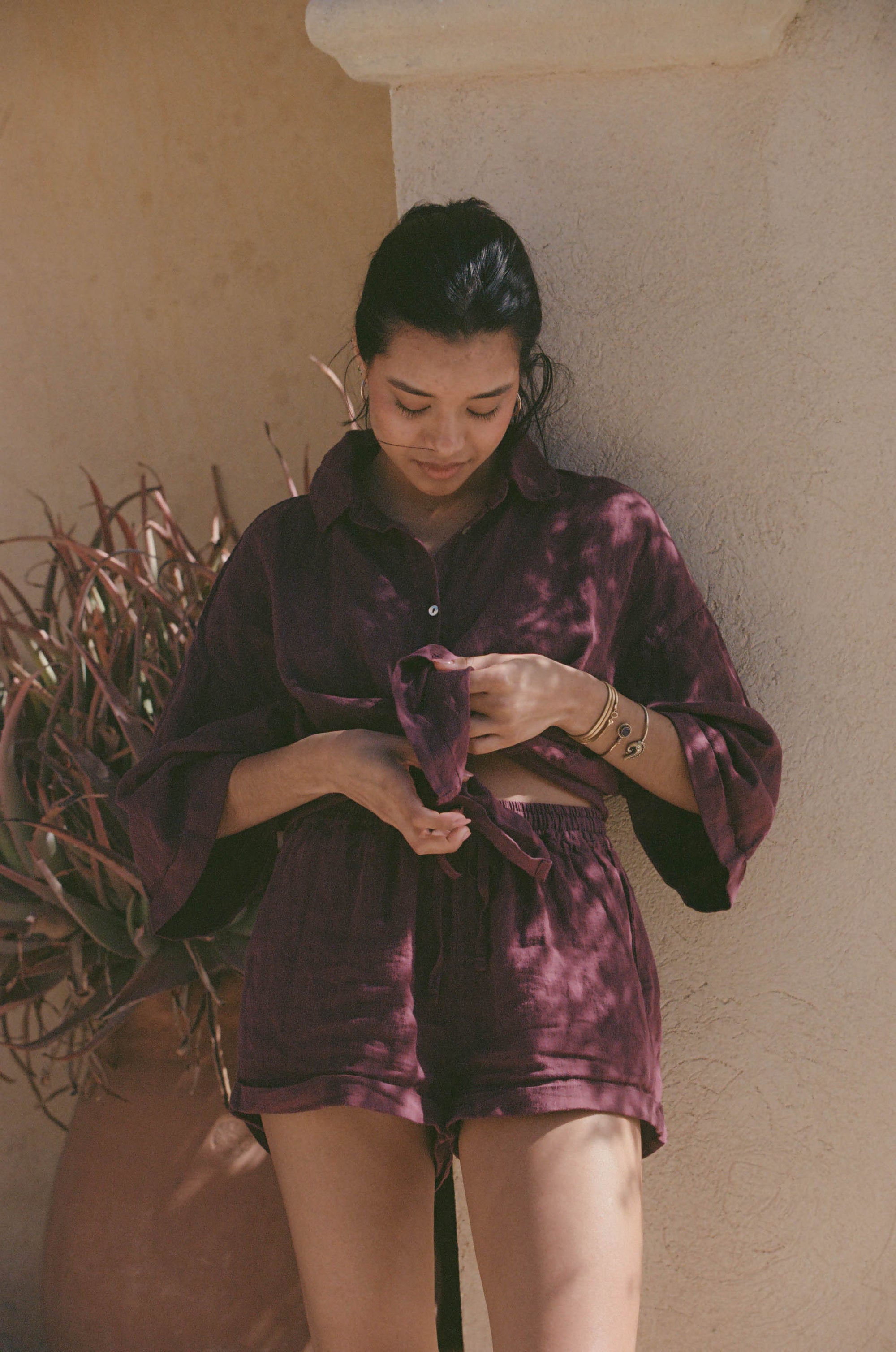 (5)
Quel est le mood de cette capsule ? 
Cette capsule incarne vraiment le sentiment de l'été méditerranéen : le soleil, la chaleur, la mer, les journées et les soirées passées à nager, à se reposer sur la plage, à se balader ou encore à dîner al fresco avec des amis. Toutes les pièces ont été pensées pour que vous puissiez être prêtes à profiter de ce que l'été a de plus beau à offrir ! Dans le fond, elle représente très bien la connexion entre Nénés et moi et notre amour commun pour les bonheurs du sud.
What is the mood of this capsule collection?
This capsule truly embodies the feeling of Mediterranean summer: the sun, the heat, the sea, the days and evenings spent swimming, relaxing on the beach, strolling or dining al fresco with friends. All the pieces have been designed so that you can enjoy summer to the fullest! Basically, it represents the connection between Nénés and me and our mutual love for the pleasures of the South.
(6)
Nénés est une marque engagée, en quoi cette capsule est éco-responsable ? 
Toutes les pièces sont fabriquées en toutes petites quantités au Portugal à partir de fibres européennes recyclées et naturelles biologiques. Chez Nénés, tout est toujours produit en petite quantité afin d'éviter la surproduction et la surconsommation, ce que je trouve vraiment génial. En plus, tout est acheminé par camion uniquement afin de réduire les émissions de CO2 ! Il était primordial pour nous que la collection, qui rend hommage à la nature méditerranéenne, soit absolument respectueuse de l'environnement en tout point.
Nénés is a committed brand, in what sense is this collection eco-friendly?
All the pieces are made in very small quantities in Portugal from recycled and natural organic European fibers. Everything that Nénés designs is always produced in small quantities to avoid overproduction and overconsumption, which I think is really great. On top of that, everything is shipped by truck only to reduce CO2 emissions! It was essential for us that the collection, which pays tribute to the Mediterranean nature, should be absolutely eco-friendly from start to finish.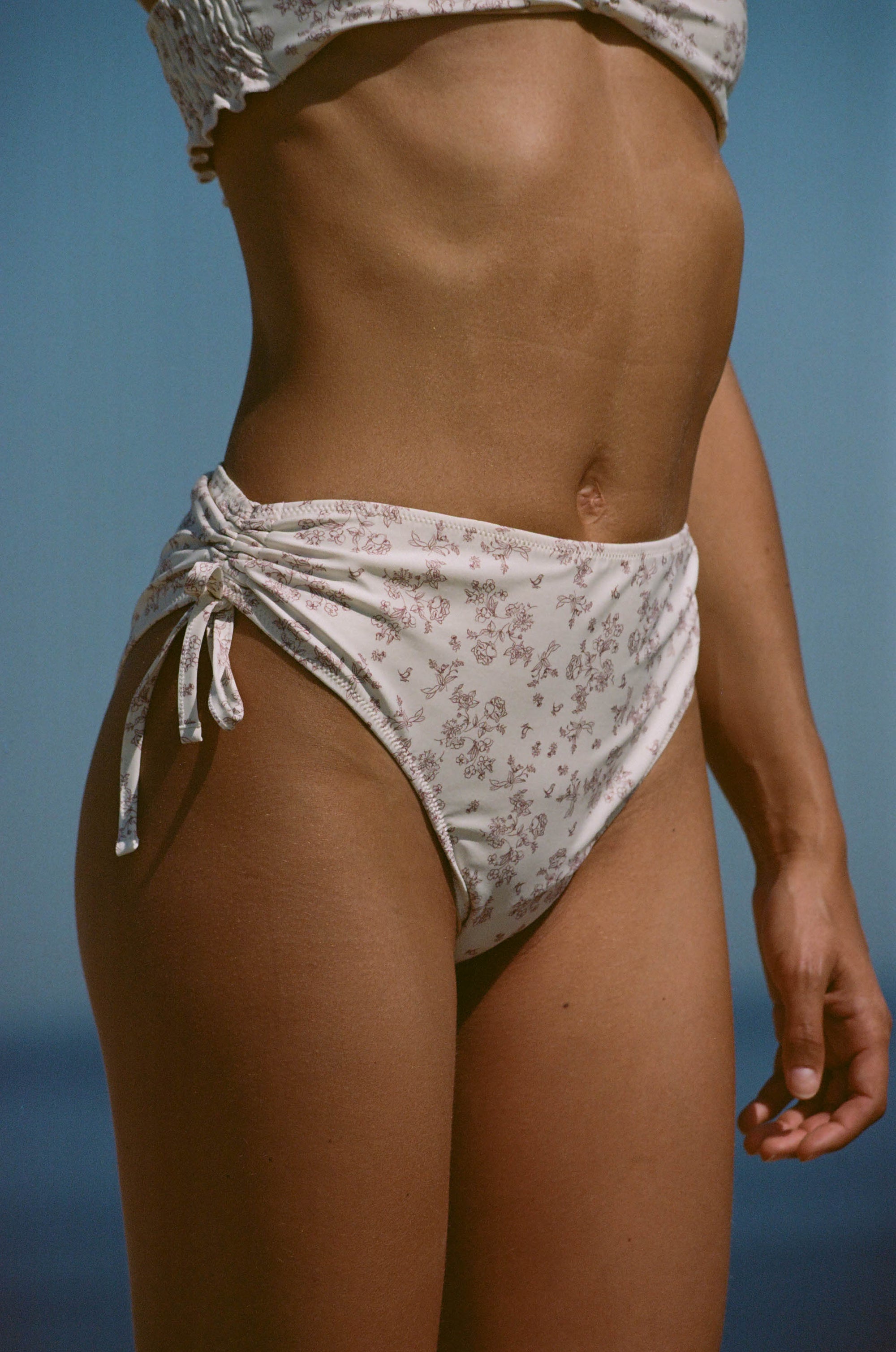 (7)
Ta pièce préférée de la collection ? 
Le maillot de bain une-pièce, je l'adore. Il est si féminin et si singulier. Il a une allure vintage et moderne à la fois, notamment grâce à ses bretelles larges et ses armatures. Sa forme légèrement échancrée est vraiment ultra-flatteuse : il allonge la jambe, galbe la poitrine... il fait une silhouette de rêve !
Your favourite piece from the collection?
The one-piece swimsuit, I love it. So feminine and special. It has both a vintage and modern look, thanks to its wide straps and underwiring. Its slightly high-rise cut is really flattering: it lengthens the leg, shapes the chest... it gives you a dream silhouette!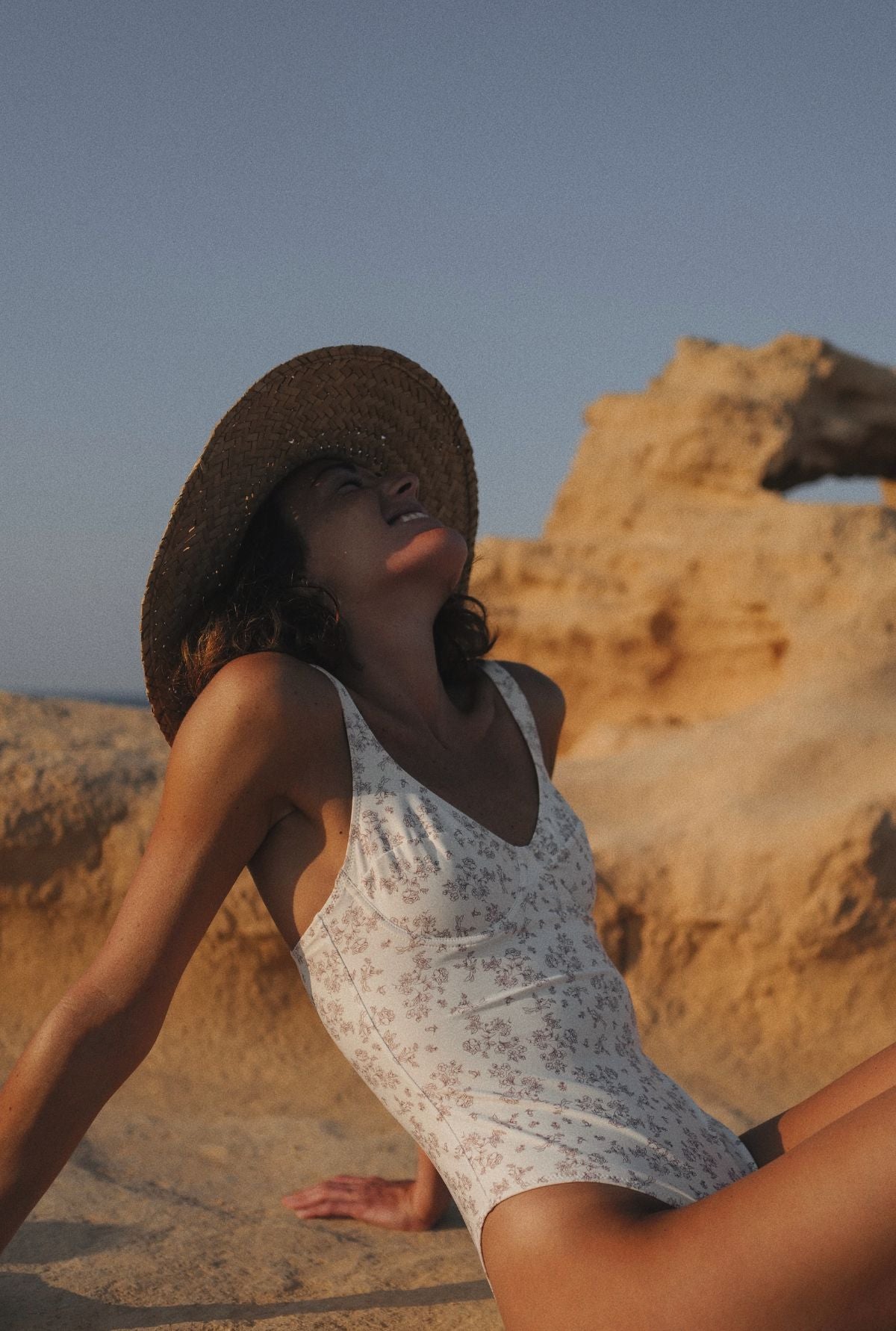 (8)
La collection en 3 mots ? 
Féminine, intemporelle, méditerranéenne.
Can you describe the collection in 3 words?
Feminine, timeless, mediterranean.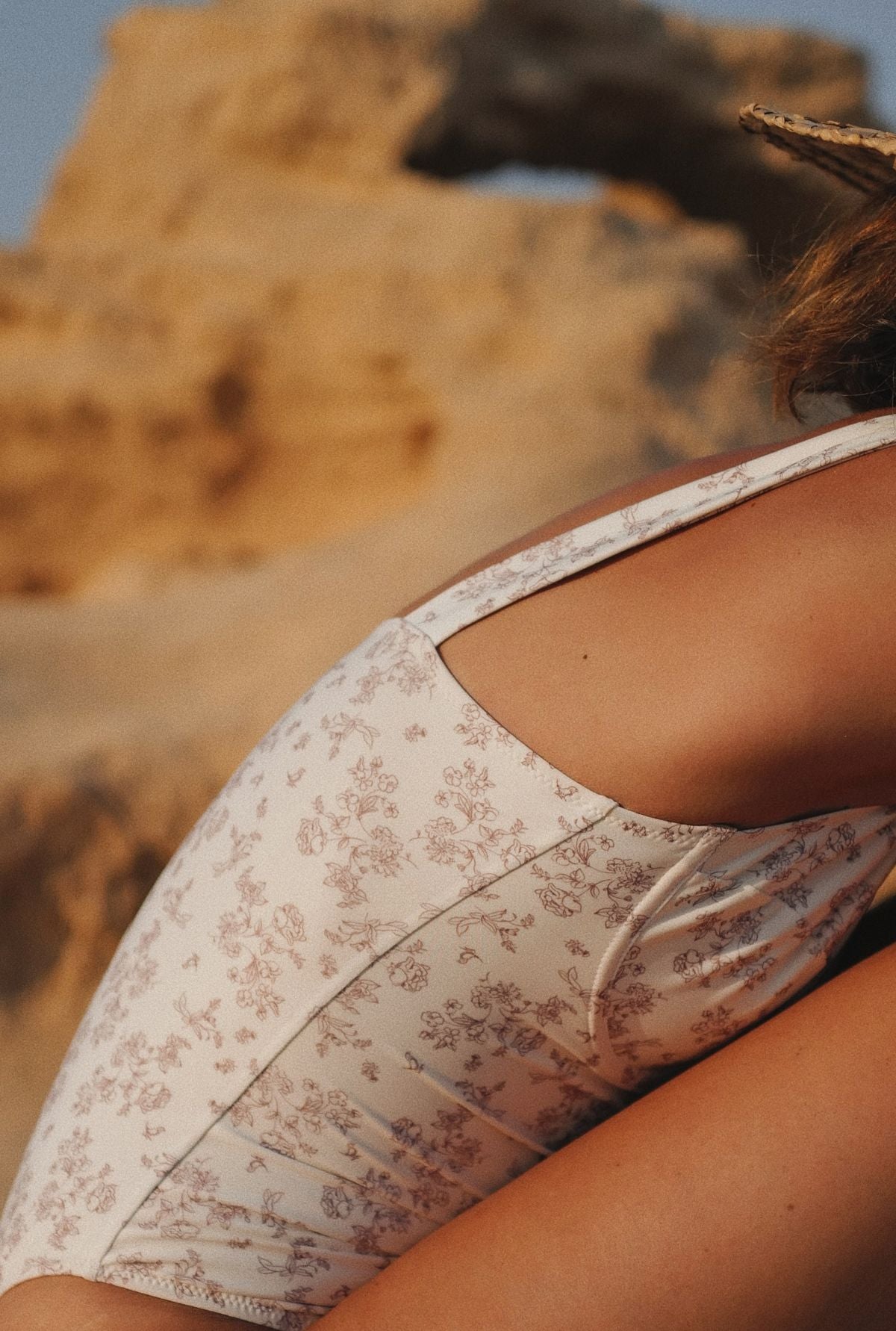 (9)
Des idées de looks pour porter le maillot une pièce en journée ? 
J'aime le porter avec l'ensemble en lin car les couleurs s'accordent parfaitement, avec la chemise à moitié ou complètement ouverte.
Any ideas for daytime looks in your one-piece swimsuit?
I love to wear it with the linen set as the colors match perfectly, with the shirt semi or fully opened.
(10)
Des idées de looks mix & match avec ton ensemble de beachwear ? 
Avec le maillot de bain une pièce bien évidemment ! Mais j'aime aussi ajouter un sac en raphia et un chapeau.
Any ideas for mix and match looks using your beachwear set?
With the one-piece swimsuit for sure! But I also like to add a raffia bag and a hat.
(11)
Un livre à nous conseiller pour les vacances ? 
Ensemble, c'est tout (Juntos, nada más en espagnol), de Ana Gavalda, que j'adore. Ou encore Siddhartha de Herman Hesse.
What book would you recommend we read on holiday?
Hunting and Gathering. In Spanish: Juntos, nada más. I love Anna Gavalda. Also, Siddharta by Herman Hesse.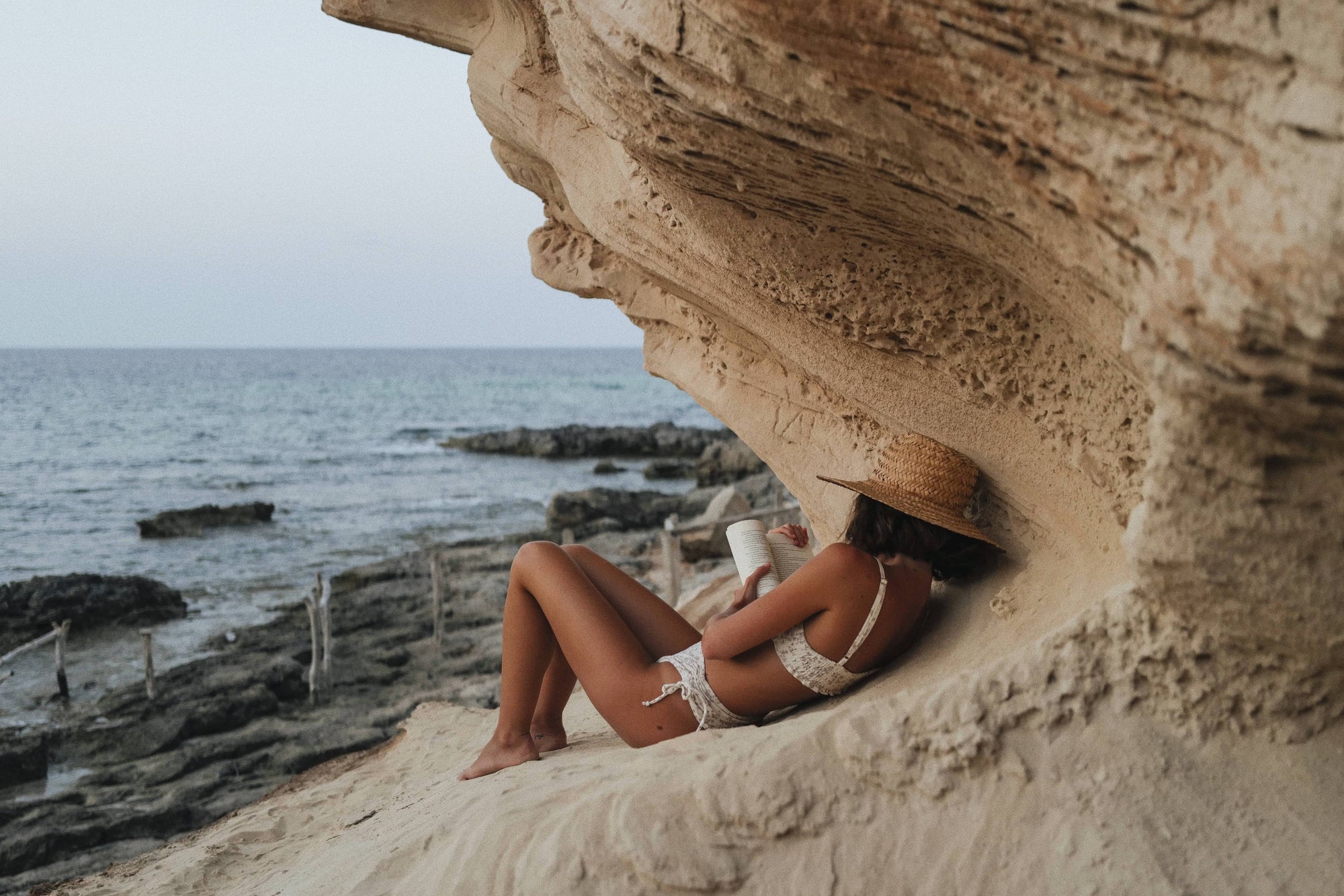 (12)
Une bonne adresse en Espagne ?
Formentera est l'un de mes endroits préférés pour m'évader en été. Mon meilleur conseil est de se laisser porter, de s'ouvrir à l'île et d'en profiter.
A good place to go in Spain? 
Formentera is one of my favorite places on earth to escape to in summer. My best tip is to flow, be open to feel the island and enjoy.
(13)
Ton spot de l'été secret en Méditerranée ? 
Ce ne serait plus un secret si je le disais !
Can you tell us what your secret Mediterranean summer spot is?
It wouldn't be a secret anymore if I told you!